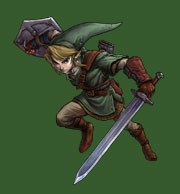 Eine furchtbare Dunkelheit bedeckt das Land Hyrule und ein einfacher Bursche namens Link muss den Helden (und das Tier) in sich wachrufen!
In The Legend of Zelda: Twilight Princess nimmt Links Leben eine plötzliche dramatische Wendung. Link, der eigentlich ein einfacher Bauernbursche ist, der sich um die Tiere auf dem heimischen Hof kümmern soll, wird vom Bürgermeister beordert, dem 'Gipfeltreffen' von Hyrule beizuwohnen. Als er sich auf den Weg macht, hat er keine Ahnung, was ihn im Königreich erwartet…
Als er der Dämmerung begegnet, die Hyrule befallen hat, verwandelt sich Link in einen Wolf und wird gefangen. Ein geheimnisvolles Wesen namens Midna hilft ihm auszubrechen. Und mit der Hilfe ihrer Magie machen sie sich gemeinsam auf den Weg, um das Land vom mysteriösen Nebel zu befreien.
Link muss das Land Hyrule erkunden und das Geheimnis um die Verdunkelung aufdecken. Dabei muss er Rätsel lösen, die Hilfe des freundlichen Volkes in Anspruch nehmen und sich durch gefährliche Verliese schlagen. Im Reich der Dämmerung muss er seine wölfischen Fähigkeiten und Midnas Magie einsetzen, um Licht ins Dunkel zu bringen.
Während seiner Mission kann Link gegen Horden von fiesen Kreaturen in die Schlacht reiten. Dabei steht ihm zu Pferde ein unglaubliches Kampfsystem zur Verfügung. Und er trifft auf mächtige Bossgegner, die man selber gesehen haben muss, um zu glauben, dass es sie gibt. Neben Schwert und Schild kann Link Pfeil und Bogen nutzen. Außerdem kann er auf dem Rücken seines treuen Pferdes kämpfen und eine Reihe weiterer (altbekannter und neuer) Gegenstände einsetzen.
Auf seiner Reise durch das düstere Land trifft Link auch auf Zelda und viele weitere Charaktere, von denen du einige noch nie gesehen hast.
Vorraussichtlicher Erscheinungstermin: 15.12.2006