Die i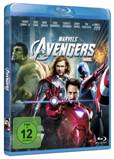 konischen Marvel-Helden Iron Man, Hulk, Thor, Captain America, Hawkeye und die geheimnisvolle Black Widow mobilisieren ihre Superkräfte und treten gemeinsam den ultimativen Fight gegen die unberechenbare Invasion todbringender Mächte an. Unter Führung der internationalen Friedensorganisation S.H.I.E.L.D. beweisen die Superhelden nicht nur ihr unverwechselbares Kampfgeschick, sondern auch ihre Vorliebe für Selbstironie und knallharte Sprüche. Machen Sie sich bereit für die spektakulärste Rettungsmission, die die Welt je gesehen hat!
MARVEL'S THE AVENGERS ist ein Superhelden-Blockbuster der Megalative und vereint die A-Liga der Hollywood-Schauspieler: Robert Downey Jr. als "Iron Man", Chris Hemsworth als "Thor", Scarlett Johansson als "Black Widow", Mark Ruffalo als "Hulk", Chris Evans als "Captain America", Jeremy Renner als "Hawkeye", Tom Hiddleston als "Loki", Samuel L. Jackson als "Nick Fury" und Stellan Skarsgård in der Rolle des Professor Erik Selvig.
Freuen Sie sich ab dem 13. September auf umfangreiches Bonusmaterial, darunter die Featurette "Eine visuelle Reise", "Das Ultimative Team" sowie Pannen vom Dreh und zusätzliche & erweiterte Szenen (nur Blu-ray). Die 3D Blu-ray erscheint im attraktiven Steelbook, das zusätzlich zur 2D und 3D Fassung des Filmes eine exklusive Bonus-Disc enthält. Mit sensationellen Special Effects, witzig-ironischen Wortgefechten und jeder Menge Sex-Appeal ist MARVEL'S THE AVENGERS das Home Entertainment-Highlight im Herbst!
Die offizielle Filmseite erreichen Sie unter: www.theavengers-derfilm.de