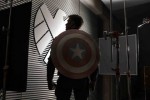 Auf den Event-Blockbuster MARVEL'S THE AVENGERS folgt nun THE RETURN OF THE FIRST AVENGER, der an die Geschehnisse in New York anknüpft: Steve Rogers alias Captain America entscheidet sich, seine erfolgreiche Zusammenarbeit mit S.H.I.E.L.D. und Natasha Romanoff alias Black Widow im Hier und Heute fortzusetzen. Er lebt zurückgezogen in Washington und tut sein Bestes, sich an die moderne Welt zu gewöhnen. Doch als ein S.H.I.E.L.D.-Agent unter Beschuss gerät, wird Steve in ein Netz von Intrigen verwickelt, das eine Gefahr für die ganze Welt darstellen könnte. Mit Black Widow an seiner Seite versucht Captain America verzweifelt, die sich weiter verdichtende Verschwörung aufzudecken. Dabei muss er sich immer wieder gegen professionelle Attentäter wehren, die ihn zum Schweigen bringen sollen. Als sich die gesamte Tragweite des teuflischen Plans offenbart, finden Captain America und Black Widow in dem Falken einen neuen Verbündeten. Gemeinsam sehen sie sich schon bald einem so unerwarteten wie gefährlichen Gegner gegenüber – dem Winter Soldier.
THE RETURN OF THE FIRST AVENGER basiert auf der populären Marvel-Comicreihe um Captain America, die zuerst 1941 erschien. Regie führten die Brüder Anthony und Joe Russo, die sich bisher vor allem im Komödienfach einen Namen gemacht haben ("Ich, Du und der Andere") und nun mit der richtigen Mischung aus spektakulärer Action und treffsicherem Humor das nächste Kapitel des Marvel-Universums schreiben. Die Drehbuchgrundlage für das Actionfeuerwerk liefern nach "Captain America: The First Avenger" erneut Christopher Markus und Stephen McFeely, während Kevin Feige wieder als Produzent fungiert. In den Hauptrollen spielen Chris Evans ("Marvel's The Avengers", "Captain America"), Scarlett Johansson ("Marvel's The Avengers", "Hitchcock"), Sebastian Stan ("Captain America: The First Avenger", "Black Swan"), Anthony Mackie ("Runner Runner", "Inside WikiLeaks – Die fünfte Gewalt"), Cobie Smulders ("Marvel's The Avengers", "How I Met Your Mother") und Hayley Atwell ("Captain America: The First Avenger", "Die Herzogin") sowie Robert Redford als Alexander Pierce und Samuel L. Jackson als Nick Fury.
THE RETURN OF THE FIRST AVENGER
Regie: Anthony & Joe Russo
Mit Chris Evans, Scarlett Johansson, Sebastian Stan, Anthony Mackie,
Robert Redford, Samuel L. Jackson, Cobie Smulders, Frank Grillo,
Emily VanCamp, Hayley Atwell u.v.m.
Deutscher Kinostart: 27. März 2014
Im Verleih von Walt Disney Studios Motion Pictures Germany
auch in Disney Digital 3D™